Follow more of my artwork on DeviantArt or Twitter.
Harry Mason has been looking for his daughter at the mercy of someone else's demons for twenty solid years today. This was foretold by gyromancy!
Being my favourite disturbing influence, I had to do a mini-special for Silent Hill's landmark birthday on the good parts, the bad parts, the books that it brought me to and influence on my own work. Which is more than Konami will do for their own series today, I promise you that.
I know it's a series that ended rather unceremoniously some time ago, but its impact makes it the only one I will draw something specifically for for its anniversary.
What's scarier, Silent Hill or the fact that 1999 was twenty years ago? Yeah, pretty much nobody born in the 90's is in school anymore. That's… bamboozling for some reason, and I didn't really get to experience the 90's save for the tail-end.
Anyway. I don't want to go into a boring essay – there have been dissections upon discussions upon dissertations on the series and its symbolism for years. The series is old enough to buy cigarettes on its own now, so there ought to be by this point! So don't worry, this won't be that. Just an almost-short dedication to a really phenomenal series with a handful of recommendations.
The Books
Silent Hill is based heavily around literature, both English and Japanese, as well as a couple of darker films like Jacob's Ladder. There are numerous references to Shakespeare, Stephen King, and contemporary writers like Richard Matheson and Andrew Vachss. One creepy creature that stands out from the series is based off of Caliban from Shakespeare's "The Tempest", a man who is half-human and half-beast.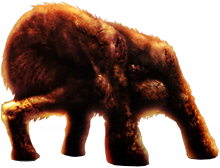 SH brought me to the discovery of my current favourite author a couple of years ago when I got into the series. The entire insane plotline of the fourth SH, which revolves around a serial killer obsessed with his mother and a hermit who finds himself in the killer's mind, is based on the novel Coin Locker Babies by Ryu Murakami.
The similarities aren't… incredibly apparent, other than both are based around two men who are close through isolation but end up taking opposing paths, though both paths lead to bad places.
In the novel, they are brothers who have an obsessive hatred for their mothers who abandoned them to die at birth – one becomes a criminal and murderer while the other loses his mind after feeling alone all of his life, even after he becomes a famous musician. In the game, they are a man abused as a child by a religious cult who becomes a fanatic and murderer, and a recluse who may be beginning to lose his mind being trapped in isolation for so long with this murderer.
I recommend the living crap out of the novel, and the game too if it's your thing. Continue reading "Silent Hill 20th Anniversary – An Overview" →