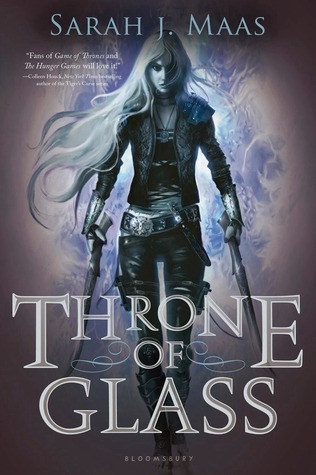 ★★★★★ 5 Stars
Genre: Fantasy / Mystery
Series: Throne of Glass
Publication Date: May 7th, 2013
Publisher: Bloomsbury USA
"Adarlan could take their freedom, it could destroy their lives and beat and break and whip them, it could force them into ridiculous contests, but criminal or not, they were still human."
I've come to expect very foul things from an aura built on good hype… but I'm always glad to be proven wrong when good hype is true.
Throne of Glass is outrageously awesome, a theatre of high fantasy politic curtained darkly by a murder mystery and underlying ancient evils, hidden and biding their time in a glass court. A collide of origin and industry, forbidden light and promised darkness.
Celaena Sardothien, trained in the art of assassination since childhood and an infamous criminal, is freed from a desolate prison camp by the Crown Prince, given the chance to compete against other like assassins, killers and thieves for a freedom that wears a doubled face. This freedom promises a world apart from the prison camp, rife with luxury, but will be soured because it will indenture her to the tyrant king of Adarlan.
It's the actors of a story that convince you to stay and see it through, and I really love the cast of characters. Yes, they are hardly perfect, but "hardly perfect" is welcome to me in a YA book. It's galaxies better than having a flawless cast, or, God forbid, ones who have a cycling obsession about how ugly they think they are (despite visceral proof otherwise) that eats up 80% of the book. There's better things to care about here.
Celaena, I believe is my favourite. She brims with hubris and arrogance, the stubborn way of someone who feels they have too much to prove, but Celaena's got an honest heart and doesn't give one single damn about social taboos if she wants to do something she likes to do.
I love Chaol and Nehemia, as well. (Although, 'Chaol'? I ended up pronouncing it something like 'khaal', not sure how else it's supposed to sound. 'Kah-ol'? 'Khaile'? Surely not like 'kale'?)
I don't want to like Prince Dorian at all. I suppose I do in the end… if I really must. But Dorian is like that awkward unnecessary corner of a love triangle at this point, and I feel like he will just get worse as the series goes. He has all of Celaena's pomposity without any of the redeeming qualities.
Still, everyone has an invisible face, whether it is an obvious, disturbed, sinister or soft one, it is there just below the surface. The sureness of it changing, but the unpredictability of how or when, I think is what keeps you inside the walls the story has built, perhaps to see it through to the end. Anything could happen, it could be all smoke and atmos or it could explode.
"You could rattle the stars," she whispered. "You could do anything, if only you dared. And deep down, you know it, too. That's what scares you most."