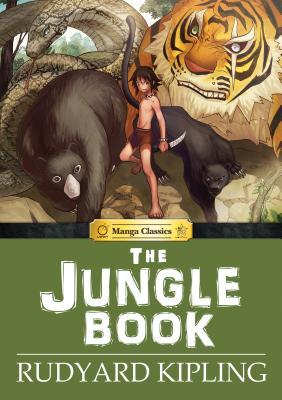 ★★★★ 4 Stars
Genre: Adventure / Classics
Manga Demographic: Shounen
Publication Date: April 28th, 2017
Publisher: Udon Entertainment
A lively retelling of Rudyard Kipling's classic – the saga of a boy raised by the inhabitants of the jungle making up the first half, with the second being a series of individual short stories.
It's a vibrant adaptation, and I appreciate that the artist goes their own way and doesn't drawn too much from the iconic 1964 Disney film, considering how infused that adaptation has become with peoples' image of the original.
I'll admit that I only really know the Disney version, which I enjoy a lot but I know deviates from the novel, notably in tone, and cuts out some of the darker acts. I haven't gotten the chance to read the original yet, though I feel from what I know about it that Chan's version is probably a truer echo of Kipling's novel than the animated movie was. I especially found the half with the unrelated stories interesting, because I hadn't really known those existed – I had thought it was mostly about Mowgli and the jungle clans.
The Jungle Book is very symbolic of both the dangers and positives of both humans' and animals' instinct to behave as clans – how they can choose to accept an outsider as one of their own (as the wolves do Mowgli) or cast them out like a pariah (as the humans eventually do to him when he attempts to join them). Mowgli is sort of the sole exception in an environment where humans, or even humanesque animals like the monkey clan, are something strange and destructive, and to be kept away from. But only because the animals chose to raise him rather than kill him or leave him to die.
As for the art in the book, it's very cute and crisp and the characters show a wide range of emotions. Some of the animals in particular look amazing, especially Baloo the bear and the tiger Shere Khan. It's totally a good adaptation, overall.
[I received a copy of this book through NetGalley and the publisher in exchange for an honest review.]