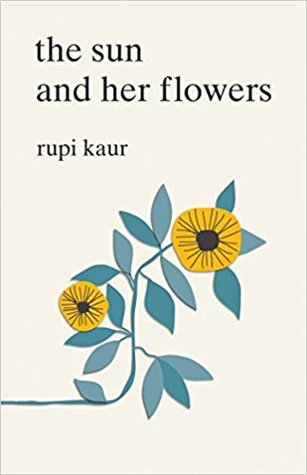 ★★★★ 3.5 Stars
Genre: Contemporary Poetry
Publisher: Andrews McMeel
Publication Date: October 3rd, 2017
There is a patch of sunflowers where others have said they've found paradise in words. Perhaps they did, but I dove in and saw only sunflowers. That's the best way I can summate my feelings for this compilation – while parts are so lovely, I'm afraid I didn't see the same empowerment nor flavours of the heart that other readers have.
As you can see from my rating, this doesn't mean I thought negatively of it. I personally loved Kaur's poems about her mother and the ones of darker, more agonized composition. The feminist ones were my favourites, often skirting the edge of the abyss I love to see poetry drawn out of – unashamed, emotional and raw. The illustrations are a pleasant touch to see, as well.
The romantic poems to me didn't feel as genuine, having more of a commercial symmetry and tone. It's not a weak compilation nor are those necessarily weak poems, but I suppose I felt like those in particular wanted to scream but only allowed short bursts before covering their own mouth. Self-consciousness in the name of audience appeal never does creation any favors.
I commend Kaur for bringing a fresh popularity to contemporary poetry, and I think some of The Sun and Her Flowers is stunning, but other parts could be more full-hearted. I recommend, but perhaps try her breakthrough, Milk and Honey, beforehand.
Quotes
"I hardened under the last loss. It took something human out of me. I used to be so deeply emotional I'd crumble on demand, but now the water has made its exit."
"You ask if we can still be friends / I explain how a honeybee does not dream of kissing the mouth of a flower / and then settle for its leaves."
"Sun becomes moon and moon becomes sun and I become ghost / a dozen different thoughts tear through me each second / you must be on your way / perhaps it's best if you're not."
"Why is it that when the story ends, we begin to feel all of it?"