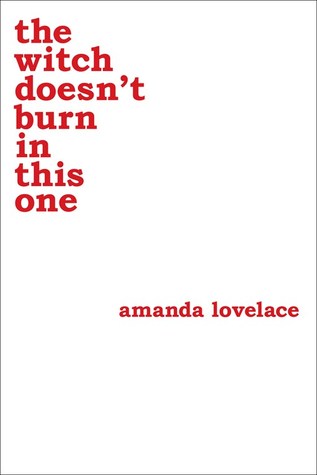 ★★★★ 4 Stars
We are what we're born, and we become what we cultivate. This is nothing to be condemned for, and yet it happens each day.
A witch to me is a paradox – transgressive yet natural. She is only controversial because as a people we have separated ourselves so far from natural wisdom, so what is perfectly human now seems inhuman. A power we could easily have seems terrifying, because it's been smushed underfoot for so long.
Like a lot of poetry, The Witch Doesn't Burn in This One is a bit of a mystery bag – the dip into the next page may give you something beautiful. Some was a little clichéd. Lovelace's books get a lot of high praise, so I can sit with the cool kids now because I've finally read one and agree that it's deserving of most of it.
What I love is the prose of course – the metaphor of a witch-burning for so much unnecessary pain and burden given to women throughout history, it's very powerful. It's angry but not damning, it's more a sense of liberation. Like, we can get past this and we can evolve, but don't forget the sacrifice of these women. We are blessed with so much now because of them.
What I don't love… and you can take this as traditionalist nit-picking, which it is, because you may personally enjoy these things… I'm not crazy about the Hunger Games references, and think that body size as a feminist issue could've been handled better. The later prose talks about loving your faults, or accepting them at the least, but also assumes that not being thin (ie – what society wants) is a rebellion against it, which it isn't. Like I said, we are what we are and we're all different sorts, and that's what is important to accept.
The Witch Doesn't Burn does but shouldn't have a content warning – it does talk about sensitive topics but we need to. Shoving them under the carpet will only create lumps. These lumps have no warnings and they will trip you without fail.
I received a copy of this from NetGalley in exchange for an honest review.