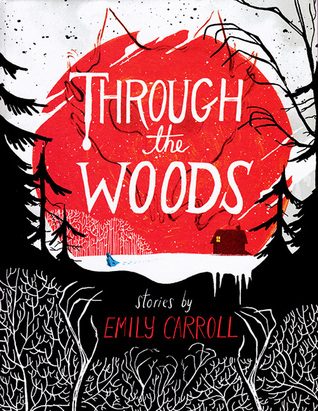 ★★★★★ 5 Stars
"Oh, but you must travel through those woods again and again… said a shadow at the window. And you must be lucky to avoid the wolf every time…
But the wolf… the wolf only needs enough luck to find you ONCE."
Any forest is an entity – pure, primal nature that hides a great many strange, dangerous things. Come winter fog or summer light, the deep places of the wilderness don't change. Something is always hiding, lurking for just one chance at human flesh or soul.
Into the Woods captures this atmosphere with dreamy, haunting perfection. This book is a beautiful lady with a set of inhuman jaws, gnashing greedily just behind a kind smile. It is a rich green grove of trees where a horrific sacrifice has taken place.
With vibrant brushstrokes, Carroll paints for us five nightmares all tied to the woods… alien body horror, brotherly jealousy, sisters who disappear into the snow, psychics who pick up an unwanted tag-along, and a retelling of the dark fairytale "Bluebeard".
My personal favourite is the chilling first short, "Our Neighbors House".
The art is rich and almost psychedelic, and reminds me somewhat of a more colourful Edward Gorey combined with the Grimm Brothers. But truly I love the characters' expressions – it gives them so much life (or lack of life).
Into the Woods is phenomenal and I would recommend it to anyone, many times over.
Our Neighbors House – 5/5
A Lady's Hands are Cold – 5/5
His Face All Red – 4/5
My Friend Janna – 5/5
The Nesting Place – 4/5
Art – 5/5
Story – 4.5/5
General Score – 5/5