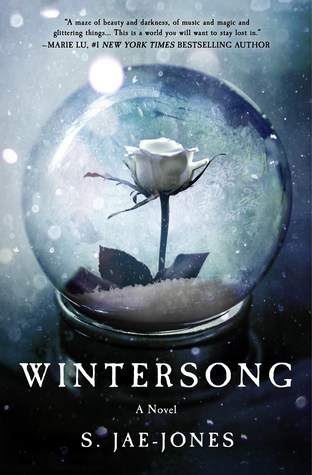 Beautiful – the poetic, stylized writing is equal to the stunning cover. A rarity in itself, though of course it would be for nought without a good story to match, which mostly it has. Wintersong is packed to its gills with sensual symbolism. I have a feeling like Jae-Jones would be an amazing poet.
Wintersong is loosely – incredibly loosely, in my opinion – based off of the 80's film, Labyrinth. Really, the only similarities are the presence of the Goblin King and Underground, as well as the base plotline of the heroine's relative, in this case her sister, being spirited away by goblins. It is all much different from the film – being more ethereal and glossy than the film's more rugged, earthy look. If you were expecting a straight adaptation, it is certainly not that.
I both love and dislike Liesl, at times. She is sympathetic, being a talented woman who is overshadowed by her boisterous sister and favoured brother, always put down by her father who can't accept that a girl can be so musically skilled – and it is a pleasant vengeance when she finally has someone appreciate her for her music, and a king no less. There are many harsh and realistic sacrifices she has to make, both for herself and her family, whom she cares for despite their flaws.
Yet, at the same time, Liesl is constantly putting herself down or mocking her own appearance as 'plain'. But, if the illustration and description gives any basis, Liesl is by no means ugly. Repeating that she is over and over gets wearing. It's a tiring trait in general that pops up far too much in young-adult books.
If you were to take away the magic and goblins, this is a powerful metaphor for a girl breaking out of the shell her relatives have built around her and realizing her full potential.
Story – 4/5
Writing – 5/5
Characterization – 4/5
General – 4/5